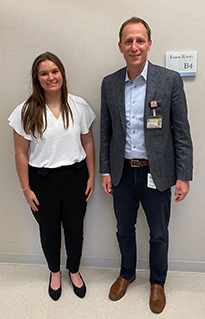 This summer, I was lucky enough to participate in a one-month shadowing opportunity with Dr. Hurbanek and his team. It was an amazing experience and I learned so much about orthopedic surgery and the other roles involved in a medical practice in just four weeks. Before I started this internship, I knew that I was interested in pursuing a career as a medical provider, but I was uncertain what that career would look like. This experience has clarified that for me.
The internship involved observing surgeries at hospitals and surgery centers which gave me a sense of the roles and responsibilities of all the healthcare professionals involved. As the four weeks progressed, I learned how to take a good patient history and how to identify abnormalities in X-Rays and MRI scans. In addition, I learned about the special tests performed for physical exams and the steps for various treatment shots. I also participated in an exercise where I had to present two studies from medical journals to the team and was asked questions about each of them. Dr. Hurbanek's ability to not only teach, but to challenge me to think critically made this internship so rewarding. I was given the opportunity to assist in injection procedures and take the patient histories of new patients, which I then had to communicate to the athletic trainers and Dr. Hurbanek. I also was able to observe patient appointments at the office where I gained insight on how a healthcare team works together to help each patient.
Finally, the time that Dr. Hurbanek and his team took making this experience more than just simply observing helped me identify the nuances of each role. Because I was able to fully engage with the team, it confirmed that working as a medical professional is my passion. As a pre-health undergraduate, this experience was invaluable. I cannot thank Dr. Hurbanek and his team enough for this experience because not only did it solidify my interest in medicine, but it also changed my perspective on my capabilities.
– Sophia Parpala
During my last semester of Lewis University's Athletic Training program, I had the privilege of completing an internship with Dr. Hurbanek and his team. During these 5 months, I learned more about the athletic trainer's role as a physician extender than I ever could have imagined. Coming into the internship as a senior athletic training student, I admittedly did not know much about the day-to-day operations of an athletic trainer in the physician's office. Dr. Hurbanek and his team continuously took time out of their busy days to teach me every step of the way. Soon, I was rooming patients, completing full histories and physical examinations, preparing injections, fitting braces, instructing patients on home exercise programs, and interpreting imaging. Dr. Hurbanek was always available to answer any questions I had. He was always willing to explain mechanisms of injury, teach proper performance of special tests, and he always allowed me to observe any surgery that he was preforming. Dr. Hurbanek continuously challenged my thought process, which in turn broadened my understanding of orthopedic injuries. I would recommend this internship to any athletic training student, even those who may not be interested in a career as a physician extender, as I have learned skills that will help me to assess orthopedic injuries in any setting as an athletic trainer. I am forever thankful for this experience with Dr. Hurbanek and his team!
– Haley McCabe
This summer, I had the fantastic opportunity to shadow Dr. Hurbanek and his team at Hinsdale Orthopaedics for one month. As a pre-med student at Denison Univeristy, I not only observed Dr. Hurbanek provide care for his patients, but I was also able to assist in that care.
Over the course of the month, I learned the skills necessary to begin thinking like a doctor and use information to make a hypothesis about each patient's diagnosis. To do this, I was expected to become familiar with the anatomy of the knee, shoulder, and hip. Additionally, Dr. Hurbanek taught me how to take a patient history by asking the right questions in order to obtain necessary information from each patient. By observing Dr. Hurbanek care for his patients, I quickly became familiar with appropriate diagnoses and treatment for various chief complaints.
Using the information I gathered from patient histories, as well as background knowledge I acquired over the course of the month, I became comfortable helping Dr. Hurbanek assess patients by providing him with patient histories as well as possible diagnoses. Additionally, after Dr. Hurbanek and the patient talked about what the best treatment plan was, I was able to assist with in office procedures like administering cortisone and gel shots.
Learning to assist in providing care for Dr. Hurbanek's patients was a unique experience which combined shadowing and clinical experience. I observed patient care from start to finish; from taking the initial history, to observing the patient during surgery and post-op. Overall, this experience solidified my passions for medicine, and I am excited to further my knowledge in orthopaedic surgery in the near future. After my time spent with Dr. Hurbanek, I feel that I am equipped with many invaluable tools, which will help me in my future endeavors such as medical school and residency.
– Maddy Matura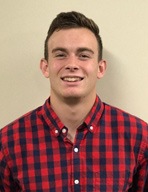 After just a month of interning with Hinsdale Orthopaedics, I learned a vast amount not only about the human body but also about the interactions between a doctor and a patient. I have already take many of the procedures I have learned in the work place and used them to with my high school teams atheltic trainers. I feel more educated with how the body functions, how to read MRIs and X-Rays, and how to communicate with people that are in pain and looking for insight on how return to their everyday lives. Very grateful for the opportunity and hospitality Dr. Jason Hurbanek and the rest of the team showed me during my internship.
– Brandon Kozak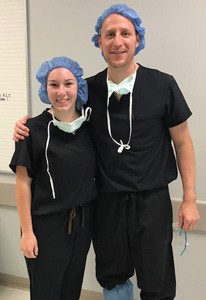 Attending Denison University has given me many wonderful opportunities- including connecting me with Dr. Hurbanek Internship Program. As an athlete since youth, my interest in orthopedics and sports medicine has been lifelong. This internship allowed me to experience orthopedics and sports medicine through a different lens; one where I was not the patient, but learning about what it means to be the provider.
The Internship Program aims not only to cultivate learning in a medical setting, but also to educate pre-Health students on pursuing a career in medicine. The internship gave me the opportunity to combine my previous knowledge of orthopedics and sports medicine with new information and hands-on experience. The structure of the internship allowed me to participate in the duration of the patient's care while giving me a glimpse into the medical industry. Shadowing Dr. Hurbanek provided insights into the demands and pressures placed on physicians in multiple environments. In addition, I was not shown just the medical aspect, but also the business side. I participated in team meetings, read and presented relevant research articles, was shown how patients and insurance companies were billed, and observed interactions with lawyers and labor companies representing patients injured on the job. Working with a team of medical professionals demonstrated the importance of trust, respect, and cooperation in order to provide the best patient care possible.
During clinic, I was able to observe patient appointments. As my learning progressed and I became more comfortable, I began to interact with patients. With the assistance of Dr. Hurbanek's athletic trainers, I was able to help room patients, take patient vitals, and obtain patient histories. After observing the physical exam of the patient and organizing the patient's symptoms, I presented the patient and our findings to Dr. Hurbanek, where we discussed my hypothesis of the injury and my reasoning behind it. When a consensus on the patient's diagnosis was achieved, we worked to determine a plan of care for the patient. Oftentimes, the plan of care included many options which Dr. Hurbanek then discussed with the patient while I observed. Based on his recommendation and the patient's preference, Dr. Hurbanek initiated the plan of care and I was allowed to observe and, in some cases, participate in its course. Depending on the individual patient's injury, a plan of care could involve injections, physical therapy, or surgery (where I was able to assist in the preparation of the patient before the operation, observe the surgery from inside the operating room, ask questions or clarify procedures, and observe the post-operative discussion of the patient's surgery with his or her family members). As the internship advanced, I started to find patterns within patients, mechanisms of injury, and forms of treatment, which became an important milestone in my learning.
I would like to express my gratitude and appreciation to Dr. Hurbanek and his staff for giving me such an amazing opportunity to gain both knowledge of and insight into the world of patient care. I thoroughly enjoyed my time with Dr. Hurbanek and can say with conviction that the internship has helped cement my decision to pursue a career in medicine.
– Gillian Dwyer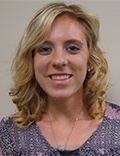 This past month while interning with Dr. Hurbanek, I gained insight into the day-to-day life of a busy and accomplished orthopedic surgeon. I not only had the opportunity to learn about orthopedics through shadowing patient appointments, but also through taking patient histories and observing multiple surgeries. I found Dr. Hurbanek's internship program to be unique, in that I–as a premedical student–did not merely serve as an outside observer, but–rather–an active participant in everything going on during clinic days. From day one, Dr. Hurbanek familiarized me with the diagnostic imaging an orthopedist relies on, namely, x-rays and MRI scans; by the end of the month, I felt confident in my ability to properly interpret them and identify abnormalities. Moreover, taking patient histories allowed me to begin developing consultation skills and learning how to guide patients through a series of questions that help reveal a diagnosis. I was able to think for myself in discussing possible diagnoses, which was beneficial to my learning. Even during surgery, Dr. Hurbanek ensured that I felt engaged by explaining his course of action and, ultimately, asking me to identify structures.
It was a pleasure to work with Dr. Hurbanek for the month; he was an excellent teacher and mentor, and I am incredibly grateful for everything I learned from him. He showed me what it means to be a doctor with wonderful bedside manner and genuine respect for a patient's right to choose. I experienced how gratifying it must be to help a patient feel better and regain his or her lifestyle, as well as how frustrating it can be when a clear solution to a patient's pathology does not exist. I also observed the beauty behind a patient placing his or her vulnerabilities in the hands of the doctor. Every patient tells a story that deserves to be heard.
After reflecting upon my experiences, I can confidently state that I am thrilled to be on the path to a career in medicine. Orthopedic surgery is an amazing field with a promising future in terms of advancement, and I am grateful to have seen both the challenges and rewards of the specialty. Dr. Hurbanek and his staff were great to work with and very supportive. I couldn't have asked for a better month. Thank you, Dr. Hurbanek, for your part in my journey to becoming a doctor!
– Alexis Stefaniak
Having one semester left prior to graduating from Lewis University's Athletic Training Program, Dr. Hurbanek's internship opportunity was especially attractive to me because of his comprehensive leadership in sports medicine and the learning environment he facilitates. I was able to continue my professional growth through the exemplary physician-athletic trainer relationship that this internship fosters. This experience allowed me to advance my clinical skills, including: taking patient histories, performing physical examinations, interpreting diagnostic imaging, understanding surgical indication and non-operative management, proper documentation, and case presentation. The high volume exposure to musculoskeletal conditions provided me with an environment to expand my skill range and broaden my knowledge concerning diagnosing and managing orthopedic injuries.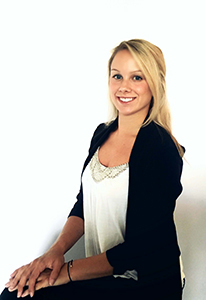 Dr. Hurbanek went above and beyond to maximize my learning. He challenged me and allowed me to grow in more ways than I could ask for. Part of my experience included leading weekly article presentations that not only enhanced my learning, but was a way for us to discuss how we can improve patient outcomes as a team. I also had the opportunity to observe in surgery, which allowed me to better understand what a patient goes through. Seeing patients from start to finish throughout their entire progression of care was invaluable. He has helped me build my confidence and follow in his footsteps in facilitating great patient care.
Dr. Hurbanek and his entire staff made me feel like a member of the team, providing me with guidance and encouragement throughout my semester there. They each gave me hands-on learning, whether it was helping me practice an orthopedic special test or teaching me how to apply a cast. I learned so many new skills and was able to refine what I was taught in school. This experience has been instrumental in preparing me for a rewarding career in this new and exciting avenue of athletic training, as well as working alongside other allied healthcare professionals. I couldn't have asked for a better internship experience or doctor to work with.
– Amy Mueller
Dr. Hurbanek participates in college-approved internship programs. To learn more, please contact your College professor and complete the college-specific qualification process.
Dr. Hurbanek hosted two rising senior Denison University students during the Summer of 2015. Blake Schach and Madelyn Kern's summaries can be seen below: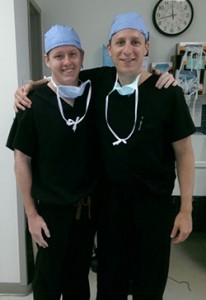 As an undergraduate pre-medical student it can sometimes be difficult to find quality shadowing experiences. A friend of mine had mentioned to me that he saw an opportunity to shadow an orthopedic surgeon that graduated from Denison on one of our alumni connection pages. The internship was perfect for me as Dr. Hurbanek followed a very similar path to the one that I hope to follow one day as an orthopedic surgeon. In addition, the month long time span fit perfectly into my schedule as I already had committed my time to two other activities that summer. Students from Denison who had previously completed the internship told me fantastic things about their experiences with Dr. Hurbanek, so I was very excited when I found out that I received the internship.
After completing my month of work in Chicago with Dr. Hurbanek, I can confidently say that no other internship experience offers the opportunities that I received at Hinsdale Orthopedics. On a day-to-day basis I was given the chance to learn more about working in the medical profession. However, as an intern I was not just observing Dr. Hurbanek diagnose patients. He gave me the chance to room patients and learn how to take their histories, which broadened my knowledge of the diagnosis process. It also taught me the different symptoms that are associated with the abundance of injuries that orthopedists see every day. By the end of the internship, Dr. Hurbanek was having me attempt to diagnosis several patients' injuries based upon their complaints, medical imaging results, and physical examinations. This was a very unique opportunity that few undergraduates get to experience in a clinical setting. Even in the operating room I felt engaged and involved in every surgery that Dr. Hurbanek performed. He taught me what it is like to be a medical student as he had me identify structures of the shoulder and knee throughout the procedures. It was a challenging task initially, but as the internship progressed I felt much more comfortable with using medical terminology as well as identifying anatomical structures. From all of these experiences I was able to see first-hand how rewarding a career in medicine would be.
I cannot emphasize how beneficial this opportunity was for me as a student because it confirmed my desire to continue on the path to becoming an orthopedic surgeon. Dr. Hurbanek was an extremely caring mentor that kept me involved and engaged in everything that he did, from the office to the OR. He teaches you the intricacies of medicine that you don't initially think of as an undergraduate student. This entire experience was more rewarding then I ever could have imagined when I began. I learned so much about the field of medicine, while also meeting a fantastic group of people that I was able to get to know during my month in Chicago. I could not be any happier with what I gained from my time with Dr. Hurbanek and Hinsdale Orthopedics.
– Blake Schach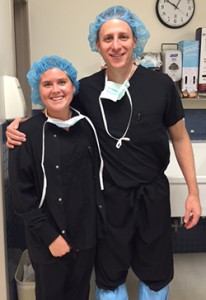 This summer I had the opportunity to shadow Dr. Hurbanek and the rest of his team. As a biology major at Denison University, science has become a passion of mine. In particular, I am very interested in how science can help the body recover from sports related injuries. My interest in medicine and orthopedics began after I underwent two arthroscopic hip surgeries during my junior year of high school. My experience as a patient drew me to orthopedics and sports medicine.
Dr. Hurbanek and his team did an excellent job of teaching me how to provide the best patient care possible. I now understand that each patient is different and each requires unique care. I learned it is important to listen to everything the patient says and asks for in order to provide the best experience.
I was able to assist Dr. Hurbanek with in-office procedures and learn the basics of his different surgical procedures. I assisted with suture removal, cortisone and viscosupplementation injections. I also took patient histories and learned to perform special tests in order to assist Dr. Hurbanek in his initial patient evaluations.
After my time working with Dr. Hurbanek, I can see myself working in orthopaedics. Dr. Hurbanek was an amazing teacher and I thoroughly enjoyed shadowing him. I learned so much from Dr. Hurbanek in only one month, and now I am eager to learn more. After the completion of this internship, I have gained a better understanding of medicine and a clearer sense of the healthcare field. This internship allowed me to learn about orthopaedics from a professional point of view in order to decide what I would like to pursue in my future.
– Madelyn Kern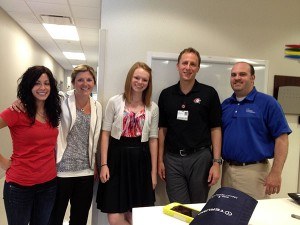 Our most recent student, Ms. Genoveffa Morway, a returning student studying at Denison University, comments on her experiences shadowing Dr. Hurbanek and his clinical team:
Working with Dr. Hurbanek over the summer was a fantastic experience. I was able to be exposed to various types of orthopaedic issues, especially in sports medicine which is my desired medical field. Dr. Hurbanek included me in all aspects of his medical career including: the clinic, the operating room, various dinner and events with colleagues to further my knowledge of medicine as a whole. I learned much more than anatomical information over the summer – I learned about professionalism, etiquette, and additional aspects of medicine that cannot be learned in the classroom. Dr. Hurbanek was very caring in regards to my personal growth in the medical field and that made it easier to be confident in myself and ask questions and learn fully from him. I thoroughly enjoyed my experience and would highly recommend it to anyone considering a career in medicine. It gives a good idea of the typical day of a doctor and Dr. Hurbanek is extremely helpful in describing the process to reach it.
– Ms. Effie Morway